Who We Are


Welcome to our website. We invite you to return often, to visit us on campus, and to join us in worship, and to consider becoming a member of our church family as we grow in our relationship with God through Jesus the Christ.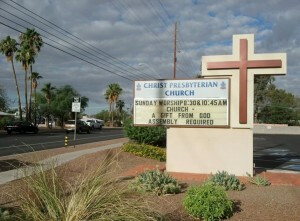 We invite you to watch Pastor Steve Melde's Welcome Video, right here!
Christ Presbyterian Church is part of the Presbyterian Church (USA) and is one of twenty nine churches within Presbytery de Cristo which encompasses Southern Arizona and the western edge of New Mexico. Our congregation began in 1956, meeting in Alice Vail Junior High school. More than 50 years later we have an amazing campus:
A Worship Center in the Round for our Traditional Service
Fellowship Hall for our Contemporary Service and fellowship times after worship
Classrooms for children, youth, and adults
A huge gymnasium with basketball and volleyball setups
A great grass quad with playground
It feels like there is always something going on for people of the church and the Tucson community.
As a community of faith, and as individual believers,
CPC is a part of the body of Christ,
striving to be and become faithful to God's grace in Jesus Christ.
We are all unique. We are all one.
We live in Christ. He is our common thread.
We trust in God's Spirit. We surrender our entire selves to God, just as God surrendered God's entire self to us in Christ.
We are all created in the image of God. We feel God's presence. We radiate God's presence.
We are broken, vulnerable, yet grateful. Because God has accepted us, we have accepted ourselves and each other. We strive to be a healing community.
We know we are not alone. But sometimes we feel disconnected.
We want the Spirit of God in us at all times.
So, we question and search in faith. We connect in faith by helping others.
We have experienced God, and we invite others to experience God in grace, peace, love, safety, acceptance, comfort, the joy of giving, and fulfillment.
We value the gifts of children and youth and the connections of generations worshiping together.
We believe we are loved unconditionally by God, and therefore we strive to love others as we are loved.
We strive to accept God's unconditional love.
We value building and deepening our relationships with God and one another.
We look forward to our fellowship together.
We value serving the community as we serve each other.
We value tradition, yet explore change.
Christ Presbyterian Church is a Caring, Passionate Community.
Our Mission Statement:
Serving God to Create A Caring, Passionate Community.
Worship is the center of our lives, and we begin each week with lively, interactive worship service with the music of our Band in our Fellowship Hall. Later on Sunday morning we conduct a more traditional worship in our Sanctuary in the Round and you are invited to join us for either or both services. You are also most welcome to participate between services in one of the Christian Education classes we offer for adults, youth, and children.
I truly do believe that God is absolutely incredible, even in the moments when I wonder if God exists at all. I plan worship that allows us to connect to God as we begin the week, praying we'll carry that connection throughout the week wherever we go, whatever we face.
We live out our faith as we participate in educational opportunities, fellowship gatherings, and opening ourselves in mission by sharing as much as we can to create a better community in Tucson and throughout the world. And we love potlucks, book studies, Amateur Broadway Show nights, Dominoes, and more. We have a movie theater, a story tellers room with tent and stars on the ceiling, a giant gymnasium, and so much more. Winter Residents and Davis-Monthan personnel and their families find a sense of home away from home. We offer great events for children, youth, and adults and we hope you will come and visit us and will want to join in our effort to be faithful instruments of God in Christ.
Come and see… we're worth a trip from anywhere!
Pastor Steve Melde