Capital Campaign – H2O to GROW!

We need H2O to grow and transform Christ Presbyterian Church for greater outreach!
With funds raised from our three-year (2016-2018) capital campaign, CPC will:
expand and re-purpose church facilities for greater fellowship and appeal to all generations,
increase the visibility of our church in the neighborhood, attracting new participation in missions and ministries, and
accomplish these goals with debt-free fiscal responsibility, as well as
prepare for essential maintenance projects.
Contribute now or watch and learn more about CPC's vision here: CPC Vision Video
Whether you are a current member, alumni, casual visitor, or interested neighbor, won't you join us as we build upon the vision of those pioneers who planted the seed of Christ Presbyterian Church almost 60 years ago? Contribute now to to help us renew, refresh and regenerate for greater impact and spiritual growth. See what water can do!
Newsletter 1: October 2015
Newsletter 2: November 2015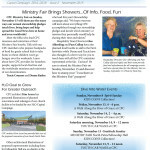 PLANT | WATER | GROW WITH GOD ~ 1 CORINTHIANS 3:6